Pecos Attendence Highs and Lows
---
6/15/2011- The Pecos is 1/3 of the way complete with the Regular Season attendence has been an interesting issue...
---
Carlsbad has 0 zero attendence as a travel team and thus 0 wins. They will host a series June 19 and June 20 and attempt to get their first wins of the season.
---
Alamogordo-White Sands is averaging close to 325 fans per game they are in first place Ruidoso played the season knowing it would be a year of establishment playing day games with no alcohol. They are averaging over 120 on weekend games... "Alamogordo is a great atmosphere to watch a game, Griggs Park really came together well...I would have never imagined a pro team much less a team of this caliber in Alamogordo, I will do anything I need to do to keep the team here..." says Eric Rogers. Eric also claims to be the teams number one fan.
---
Roswell is averaging close to 320 fans per game they are in 4th place. "I never believed they would actually put a team here and I am very pleased with the league, they will have some bumps in the road but the Invaders are here to stay" says Mitchell Johnson. The Invaders are making their money selling merchandise they have sold 10 times the amount of merchandise of any other team combined, with their super cool R Alien hats and lime green look, casual fans have raided the teams store online.
---
Alpine does not release their attendence numbers but they have the highest travel expenses and host hotels in the league, however they are the oldest most established team in the league. "Being a better league is helping us, having all home games in May and being on the road in June did not help us. We compete for fans with high school playoffs" says coach Ryan Stevens.
---
Las Cruces has been the biggest disapointment in the league. The Vaqueros have an excellent ball club with great hitting, pitching and defense and a local coaching staff. The Vaqueros in their 2nd year in a much better league than the continental League they joined in 2010. Fans have just not came out, they are averaging around 135 per game which is a huge disapointment considering Las Cruces has double the population of every other city in the Pecos League. The team expects to see increased attendence in July. "I think the grandstands scared people but we are 1/3 of the way through the season and fans aren't coming to the games. I realize we are in our 2nd year and the new has worn off but we should have more than 135 per game...There are many people that warned me Las Cruces doesn't support things well when we came here...The team will play here in 2012 and beyond regardless of attendence. Attendence and sponsorship will determine the budget we have to work with. Las Cruces fits perfectly in the Pecos League and should be a leader on and off the field every year...The players have interacted with the community. I am shocked to see Alamogordo and Roswell outdraw Las Cruces 3 to 1." says owner Andrew Dunn
---
Ruidoso GM Billy Page says "We are just trying to break even and establish baseball and hope to be alive in 2012 with lights. The Baseball Part is the easy part. If I would have had started in December we would have been fine" Billy has done a great job since he inherited the club in the seasons third week.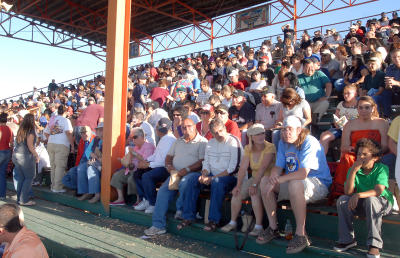 ---
---
For more information visit Pecos League of Professional Baseball Clubs LLC. http://www.PecosLeague.com 575-680-2212