High altitudes lead to explosive offense
---
2/9/2013-
By Karen Boehler
Pecos League writer

In 1993, when the Rockies became a part of Major League Baseball, everyone was forced to take a look at the effect altitude had on baseball. Both in Mile High Stadium — where the Rockies played for two years — and Coors Field (5,277 feet), balls seemed to leave the park at a much quicker rate than at lower elevation fields.

Numerous studies confirmed that.

A 2003 study at the University of Northern Colorado proved balls hit at Coors Field carry farther than in any other stadium in the country. Jay Schaffer and Erik Heiny studied the effects of elevation on slugging percentages — the total number of bases divided by the number of at bats — in major league baseball. They found that the slugging percentage at Coors Field is about 9.2. percentage points higher than for stadiums at middle elevations (between 500 and 1,100 feet), and about 12.5 percentage points higher than at elevations below 500 feet. During the 2007 World Series between Colorado and Boston, a University of Illinois study compared baseball trajectories at Coors Field and Fenway Park, and found that pitched baseballs were quicker at Coors than Fenway, balls break more at high altitudes and fly balls typically travel about 5 percent farther at Coors than at Fenway, all other things being equal.

With that in mind, someone might want to take a look at the Pecos League.

While Coors Field is considered high altitude, the average elevation of the eight Pecos League fields is 5,714 feet, almost 500 feet higher than in Denver.

Santa Fe tops the league at 7,000 feet, with Roswell the lowest elevation, still not very low at 3.573 feet. In between those two are Taos (6,967); Raton (6,860); Las Vegas ((6,424); Trinidad (6,025); Alpine (4,475); and Alamogordo (4,386.)

Another factor New Mexico, Texas and Colorado have in common is drier air, which makes balls harder and more elastic when the hit the bat. The Rockies solved that problem by installing a room-sized humidor to store the baseballs, which did lower the number of home run somewhat.

The Pecos League, unfortunately, doesn't have the resources for such a facility, so despite using Rawlings minor league baseballs — which Dunn called "a phenomenal baseball" — offense clearly dominates.

All that may explain the relatively high ERAs found across the Pecos League, the number of high run games — often looking more like football scores than baseball scores — and the big batting averages.

"As far as the Pecos league level, no pitcher is going to come to the Pecos League and do better than he did a sea level," said commissioner Andrew Dunn. "His breaking ball doesn't break as well and as consistently. Balls hit off of the pitcher are going to go further, which is never a good thing."

But despite the effect of elevation, Dunn said most Pecos League players — hitters especially — have no complaints.

"I think the guys enjoy the experience, and I think we have tons of people who are excited about coming into this league," he said.

As for the fans, "People want to see offense," Dunn said. "Whether it's football, baseball, basketball or hockey, they want to see offense. That's proven."

So despite going back to National League rules (no designated hitter) and elimination of composite bats, Pecos League fans can pretty much be assured they'll see lots of offense when the season kicks off in mid May.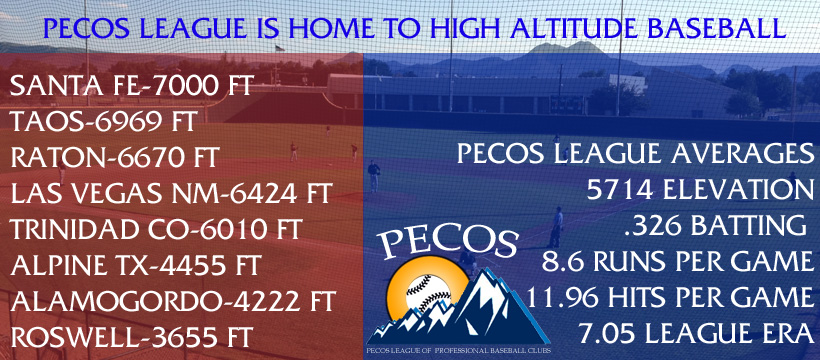 ---
---
For more information visit Pecos League of Professional Baseball Clubs LLC. http://www.PecosLeague.com 575-680-2212