Florio, Bartlestein and Smith go from TV Stars to Frontier League
---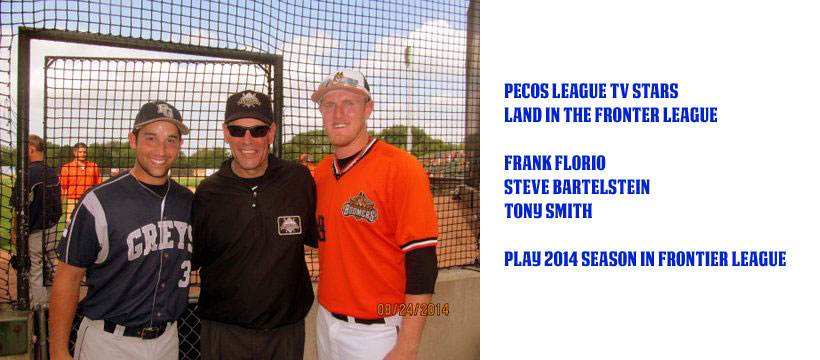 9/19/2014- Frank Florio, Steve Bartelstein and Tony Smith go from TV Stars in the Pecos League to the Frontier League in the 2014 Season.

Frank Florio was the 2013 Pecos League Offensive Player of the Year. He was followed in several episodes of the Pecos League TV Show that followed the Triggers. He spent the 2014 season with the Frontier Greys where he had 240 at bats at hit eight home runs.

Steve Bartelstein has one of the most interesting stories of them all. He was the Pecos League's #1 Umpire in 2013 season. He tested and wore the mask camera in all of the Triggers Games he umpired. Steve was promoted the Frontier League and out of the 72 umpires he was selected to be one of the 12 Playoff Umpires. Steve was formally a news anchor on CNN and for WABC in New York.

Tony Smith continued his success in the Frontier League going 6-2 with a 3.28 ERA in 57.2 innings for the Schaumburg Boomers. Smith was the player who promoted the El Paso Diablos in the Pecos League TV Show.
---
For more information visit Pecos League of Professional Baseball Clubs LLC. http://www.PecosLeague.com 575-680-2212