Pecos League Playoffs begin
---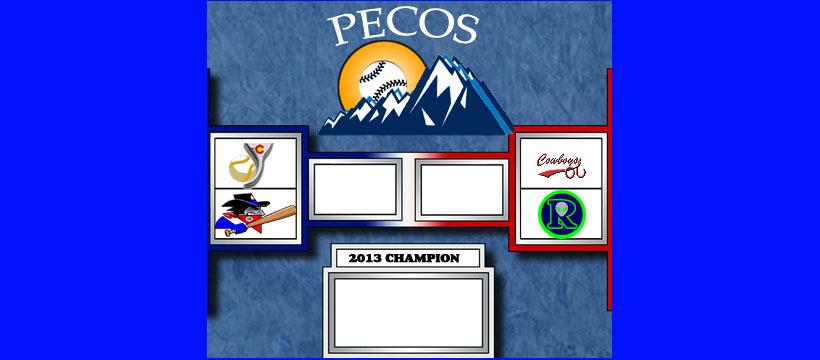 7/25/2013- The dust has settled and the Pecos League Playoffs are ready to go.

Northern Division
Trinidad Triggers will play the Las Vegas Train Robbers
Edison Alvarez will face Tony Smith in Game 1 which will be in Trinidad. Las Vegas manager Casey Dill has had huge success in Colorado in his two years in the Pecos League. The Train Robbers have owned the Triggers in Central Park going 6-8 there this year. Game 1 is in Colorado while games two and three are in Las Vegas. Trinidad finally clinched their playoff birth on the last day of the season by beating Raton 2-1 in a rain shortened game.

Southern Division
Alpine Cowboys at Roswell Invaders

All three games at New Mexico Fairgrounds Roswell, New Mexico. This matchup was set in Spring Training when the division alignment was finalized. The two teams have been the two best teams in the Pecos League since the inception of the Pecos League. These are the only two teams to ever win a Pecos League Championship. They met in 2011 when Roswell won game three on late inning home run by Brian Ramirez when it appeared Alpine had sealed the game. This year is no different Roswell will go with Eric Lambe who is 10-0 and has been dominant in the Pecos League. Alpine will counter with Brian Smith who has been one of the only pitchers to completely shut out Roswell this season. Game two could feature Roswell's Steve Sanguliano and Alpine's Shane Youngdale who have both been great this year. This will be a great series regardless of who wins. Recent Monsoon rains in Southeastern New Mexico has been a problem and could delay the series.

The two winners will meet and soon a new Pecos League Champion will be crowned.
---
For more information visit Pecos League of Professional Baseball Clubs LLC. http://www.PecosLeague.com 575-680-2212