One big inning the difference in White Sands victory
---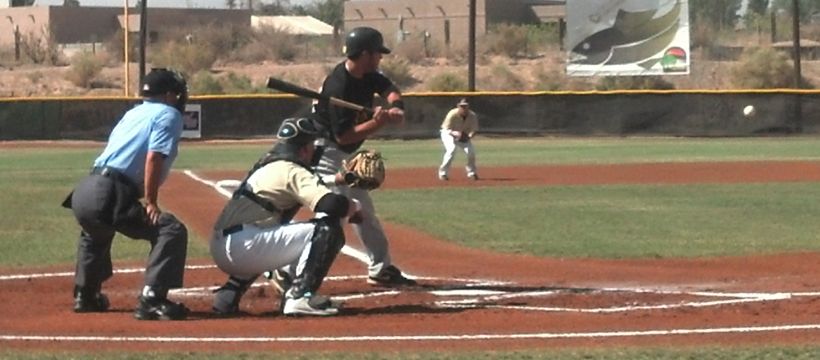 6/3/2013- Nicholas Hinojo gets the bat on the ball but flies out to end the first inning. (Photo by Josh Szwaczkowski)

By Karen Boehler
Pecos League writer

ALAMOGORDO — A good start and strong six-inning pitching performance didn't result in Raton's sixth win of the season, but despite falling 9-3 to White Sands Sunday, Raton manager Ray Hancock wasn't too disappointed with the loss.

"Bottom line is, we got beat tonight," he said. "We actually played baseball. They played baseball. We were just outclassed on pitching."

Plus, said Pupfish manager Ernie Munoz, "We hit the ball well. Good defense."

Pupfish starter Justin Kuks gave up two Oso runs in the first on two walks and a costly error, which, combined with Will Casey shutting down White Sands early, made it look as though the home team might lose two in a row.

But Kuks got stronger as the game went on, and in the third, the 'Fish cut the lead in half when Casey walked J.J. Costantino and Munoz tripled.

Raton got its last run off Kuks in the fifth when Brian Gregory walked, Westly Jones doubled and Michael Lange plated Gregory. But Casey couldn't get an out in the sixth, and White Sands took advantage of that.

Munoz opened the stanza with his first home run of the season — "I was seeing the ball well today. I felt comfortable, finally," he said — then Cody Collins singled, George Ban walked and Mike Medoza reached on an error that scored Collins. A Mark Leacox double brought in two, then, with Steve Taft on the mound, Kuks helped his own cause with an RBI triple and Costantino doubled in a run.

"Just that one inning in the sixth that they got a little bit on us and we just couldn't recover because they left that pitcher in there," Hancock said. "I have nothing but good things to say about him. He did his job and he deserved to win."

Kuks left after seven up 7-3, with Ernesto Zaragaza wrapping up for White Sands. The 'Fisg scored two final runs in the eighth off Brian Hicks on singled by Zaragaza and Costantino and a Jerry Gonzalez 2 RBI double.

Hancock gave all the credit to Kuks, who allowed only four hits while striking out 11.

"Normally, we have 15-20 hits," the manager said. "Tonight we only had six, but even six is low compared to what we normally have. We were swinging the bat. He got to us. Everything he threw was working. All I can say is he did a hell of a job and I congratulate him for it."

The biggest plus for Raton was a second night with only one fielding error, and the Pupfish matched that statistic.

"It was a lot better than the first two games," Munoz said. "The first two games were kind of like a circus out there. We played a baseball game, finally."

The teams wrap up the four-game series with a 6:05 p.m. start Monday.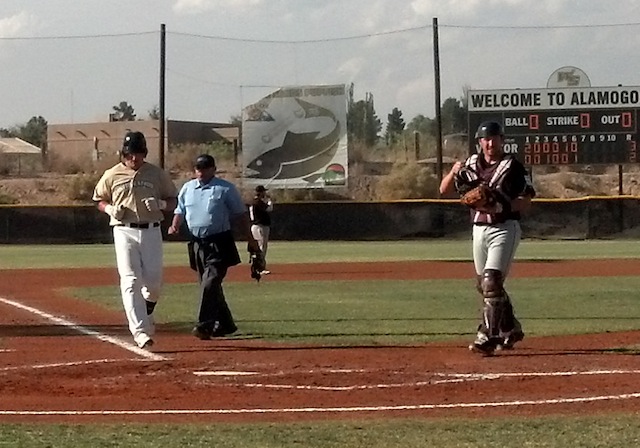 ---
Pupfish player/manager Ernie Munoz comes home with his first home run of the season. (Photo by Josh Szwaczkowski)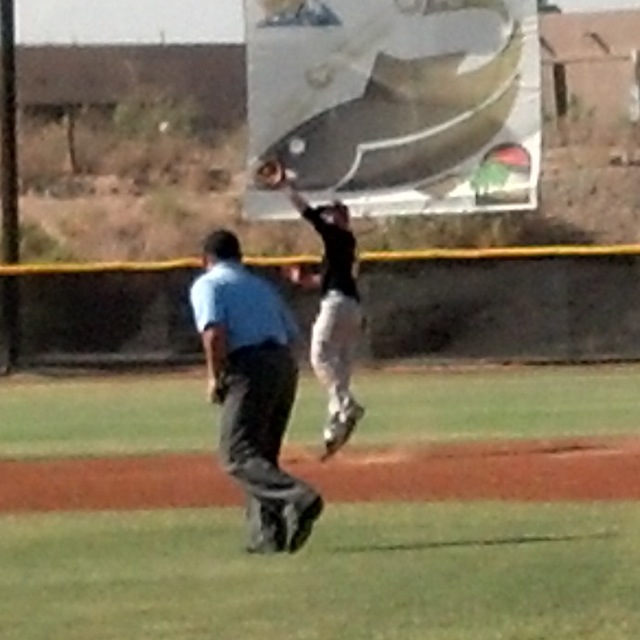 ---
Starting Raton shortstop A.J. Doyle leaps to make the grab. (Photo by Josh Szwaczkowski)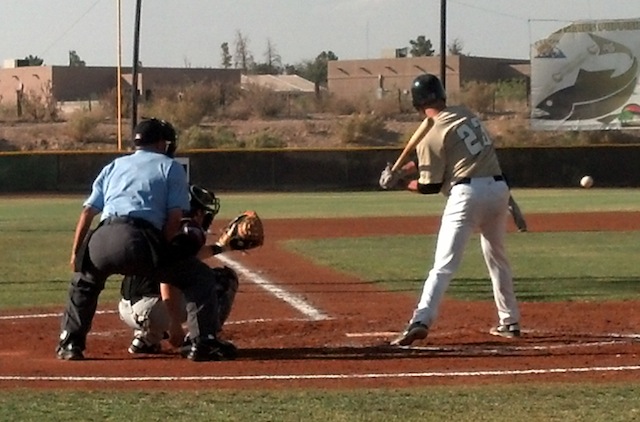 ---
Pitcher Justin Cook hits a triple to pad the lead. (Photo by Josh Szwaczkowski)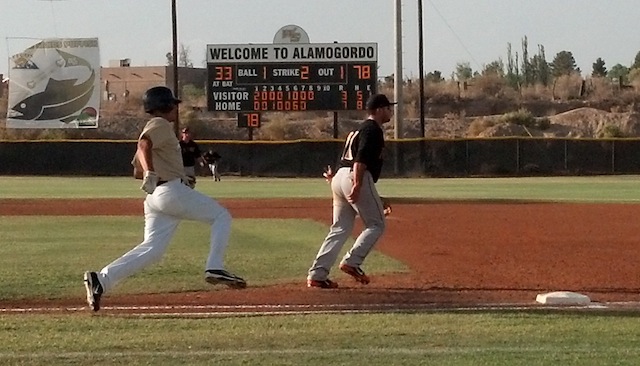 ---
Continuing to prove pitchers can hit, Pupfish reliever Ernesto Zaragaza gets a single in the eighth. (Photo by Josh Szwaczkowski)
---
For more information visit Pecos League of Professional Baseball Clubs LLC. http://www.PecosLeague.com 575-680-2212