Zagone- Weidman face off in Aquarium battle
---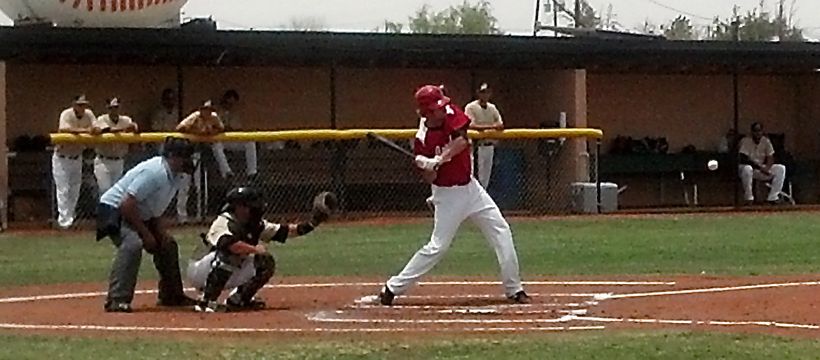 5/28/2013- Alpine pitcher Bryce Weidman watches as the ball comes in. Weidman didn't get any hits, but pitched a strong six innings. (Photo by Josh Szwaczkowski)

By Karen Boehler
Pecos League writer

ALAMOGORDO — After several nights of mostly-close high-scoring games, the fans at the Aquarium were treated to something a bit different Memorial Day: an old-fashioned pitcher's duel.

Starters Eric Zagone (White Sands) and Bryce Weidman (Alpine) faced off through six innings, with the score a mere 3-1 Pupfish when Weidman left the mound. Five more pitchers wrapped up the day, but in the end, the Cowboys couldn't get enough runs across, falling to the 'Fish 4-3.

"It was a very good game," said White Sands manager Ernie Munoz. "It's the best baseball I've seen since I've been here. I think the only error in the game was a play where our shortstop threw it to our first baseman and the ball went through his glove. Our first baseman's glove broke. The ball went through it and they called it an error, I guess. Other than that, all the plays were made on both sides. There was no chatter going back and forth. We just played real good baseball. Fun."

And they played close baseball, with neither team able to put up more than one run in any inning.

White Sands drew first blood when, in the bottom of the first, Jerry Gonzales singled, stole second and came home on a put out. Alpine tied the game in the second when Logan Lotti walked, advanced to second on another walk and third on a fielder's choice then scored on a Billy Crowe double.

After that one sort-of error in the top of the fourth — which didn't result in any runs — Cody Collins walked in the bottom of the stanza; Andrew Parrish singled; Mark Leacox reached on an error to load the bases then Joey Friedman made it 2-1 Pupfish.

White Sands got its third run in the fifth when Gonzales singled, stole second and came home on a single by George Ban.

After a scoreless sixth, both sides put up a run in the seventh to make it 4-2.

Dustin Sandberg homered for Alpine, and Christian Ramirez singled and came home on a Collins double for the Pupfish. That winning run was given up by reliever Josh Cruse, who couldn't get any outs in the stanza, but Derrick Mitchell came in to close down both the seventh and eighth.

The Cowboys put up one more run in the eighth when three batters, led by Casanova Donaldson, walked off relievers D.J. Stinsman and Chad Hadzinsky. Joel Carranza flew out to center, scoring Donalson, but the other runners were stranded as Hadzinsky got the third out of the inning, then only faced four batters in the ninth to get thewin.

"Bryce didn't have his best stuff but he still competed and gave us a chance to win," said Alpine manager Ryan Stevens. "We made a costly error. We struggled out of some jams. We left runners on."

And more than that, Stevens said, his team only found out at 10:30 p.m. Sunday that Monday's game would be a 1 p.m. start.

"We had a two hour trip here this morning," the manager said. "I don't know what to say. I"m not going to make excuses. My guys were dragging ass today."

Munoz said that early start might have been a plus for his squad.

"For us, Eric Zagone came in and he just threw a lot of strikes (7). So we were able to get a lot of balls put in play and our defense made all the plays and everything seemed pretty easy," he said. "I don't know if it was because it was early on in the day. The guys weren't as tired. I don't know. But both team's pitchers threw very well."

Hits were few and far between for both sides, as White Sands only allowed six and Alpine nine, but Collins was 2-for-3 for the 'Fish with one run and RBI; Ban was 2-for-4 with 2 RBI; and Gonzales 2-for-5 with two runs scored. Crowe was the only Cowboy with more than one hit, going 2-for-3 with 1 RBI.

The teams will meet again Tuesday, with game time set for 6 p.m.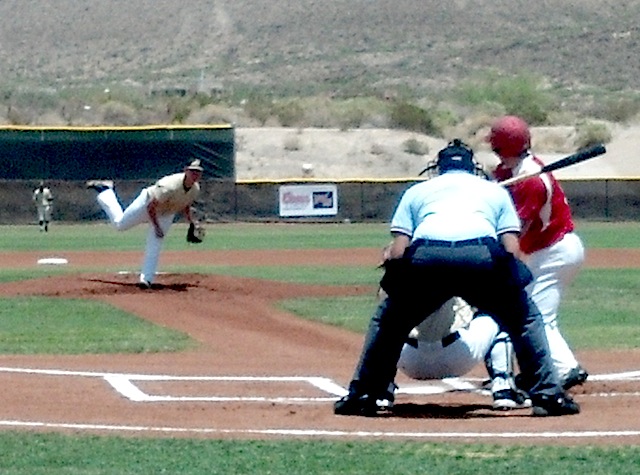 ---
Pupfish Eric Zagone strikes out the side to start the game. (Photo by Josh Szwaczkowski)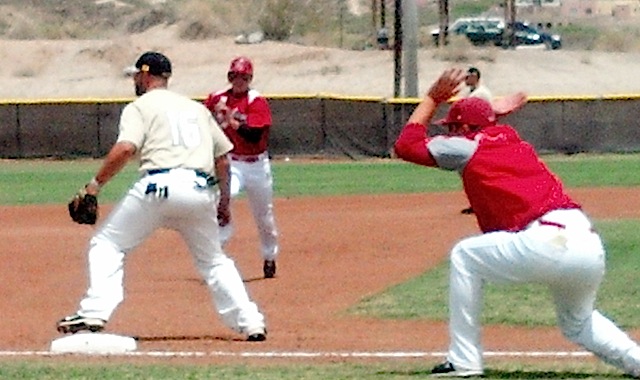 ---
Tyler Rost heads to third as manager Ryan Stevens signals him to slide and Cody Collins waits for the throw. (Photo by Josh Szwaczkowski)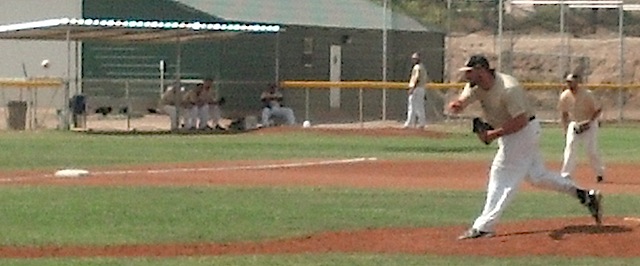 ---
Nick Alexander got the save for the Pupfish. (Photo by Josh Szwaczkowski)
---
For more information visit Pecos League of Professional Baseball Clubs LLC. http://www.PecosLeague.com 575-680-2212