Meet the 2018 Pecos League Managers
---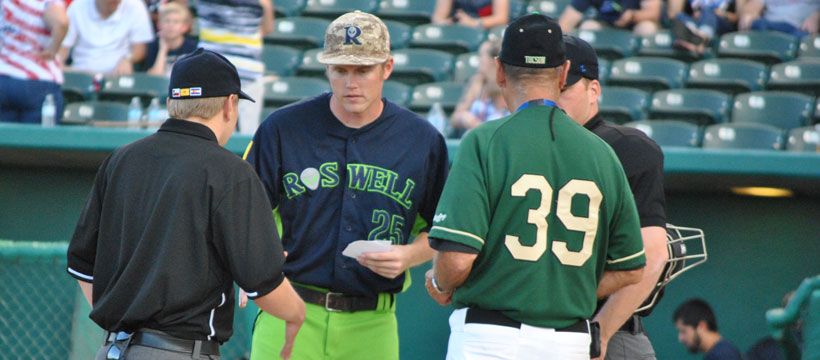 12/17/2017- The Pecos League is pleased to announce its 2018 Managers. 10 of the 12 managers have managed Pecos League Teams before. 5 of the 12 managers are returning to their team from the 2017 season.
Alpine Cowboys-Austin Prott returns to the Cowboys he managed the team in 2017
Bakersfield Train Robbers-Bryan Kloppe will manage in 2018, he managed Roswell Invaders in 2016-2017
California City Whiptails-David Peterson will manage in 2018, he managed Garden City in 2017 and was assistant in Salina in 2016
Garden City Wind-Dave Ramsey will manage the Wind in 2018, he managed the Coastal Kingfish in 2015-2016
High Desert Yardbirds-Cip Garza will manage the Yardbirds in 2018, he managed the California City Whiptails in 2017
Monterey Amberjacks-Justin Thompson returns to manage the Amberjacks in 2018, he was their inaugural manager in 2017
Roswell Invaders-Relly Mercurio will manage the Invaders in 2018, he was an assistant for parts of 2016 and 2017 in Roswell
Ruidoso Osos-Sean McNeill will manage the Osos, he managed the Hollywood Stars in 2017 season.
Santa Fe Fuego-TJ Zarewicz will return to manage the Fuego, he managed 2017 and part of 2016.
Trinidad Triggers-Thomas Nelson will return to Trinidad he managed in 2017. He managed in Alpine in 2016, he was an assistant in Las Vegas in 2013.
Tucson Saguaros-Bill Moore will manage the Saguaros in 2018 season. Bill managed the Santa Fe Fuego from 2012-2015, Garden City Wind 2016 and Bakersfield Train Robbers in 2017
White Sands Pupfish-Chris Stout returns to manage the Pupfish for the 2018 season, he managed the Pupfish in 2017.
---
For more information visit Pecos League of Professional Baseball Clubs LLC. http://www.PecosLeague.com 575-680-2212