Lights Camera Acton....
---
4/2/2011- New York States League takes control of Carlsbad Bats. Jay Acton of the New York States League and Andrew Dunn of the Pecos League have annouced that the New York State League will handle 100% of the on field player procurement and roster for the Carlsbad Bats.

The Bats will have Spring Training in Houston Texas May 5-8 and report to Alpine May 10th for their season opener. The Bats will not reside or play games in Carlsbad New Mexico in the 2011 season. They will serve as a travel team. The Pecos League will not be involved in finances or operations of the team in any manner.

The Bats will announce coaching staff on April 2, 2011.


---
About the Pecos League- The Pecos League is an independent Professional Baseball League with 2011 teams in New Mexico and West Texas.
---
About the New York State League- Today's NYSL was founded in 2006 and is a lower level independent baseball league. Generally speaking, its teams consist of players whose college eligibility is exhausted or of players who have been released from other pro teams and who are looking to work their way back up the pro baseball ladder. The NYSL is only for the hardcore baseball player. We play doubleheaders every day that begin at 8am.
---
"This is an ideal relationship, Jay Acton is running a another travel team in the Can-Am League and has high quality players who would love to spend their summer playing in New Mexico. This takes the burden of running of a travel team off of the hands of the Pecos League. Jay's players come prepared with proper attitudes and would love the opportunity to play in our league. We have had offers from several different groups to pickup the operations of the Bats, we feel it is in the best interest of the Pecos League both on the field and off the field to partner with the NYSL. " says Andrew Dunn commisioner of Pecos League.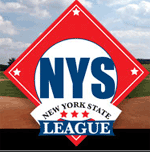 ---
---
For more information visit Pecos League of Professional Baseball Clubs LLC. http://www.PecosLeague.com 575-680-2212