Exhibition Games/Final Revisions to Pecos League Schedule
---
3/3/2011- The Pecos League has seen changes since its original schedule release in January 2011. Mainly the Clovis Pioneers exiting the league and being replaced by the Ruidoso Osos.
---
One thing is consistant with schedule requests from Pecos League Teams, no one wants Sunday Home Games. In other professional leagues across the country Sunday Games are the best attended games. In the Pecos League this is not the case. Sunday Afternoon Games in the desert conflict with other Stadium committments in Las Cruces. Sunday Games conflict with available staff to work the ballparks in Ruidoso, Roswell and Alamogordo. In Alpine attendence has been very bad both in 2009-2010 seasons on Sundays. The heat of the desert in mid day makes things tough.
---
Exhibition Games-The Pecos League is currently putting two exhibition games in Bisbee Arizona and Del Rio Texas. The Pecos League will play against the Bisbee Copperkings the Acuna Athleticos.
---
Neutral Site Games-The Pecos League is going to take advantage of the Carlsbad Bats 15 home games. Carlsbad will play a series against Alpine in Abilene Texas at Walt Driggers Field. Carlsbad will play Alpine in Pueblo Colorado and possibly in Santa Fe, New Mexico and Clovis New Mexico. Truth or Consequences will host a game between the Las Cruces Vaqueros and the Ruidoso Osos. Odessa Texas will host a series between the Ruidoso Osos and the Alpine Cowboys. Silver City is in the running for a neutral site game or an exhibition game between the Bisbee Copperkings. The league's most popular request has been to get a game in Carlsbad New Mexico. However at this time there is not a facility available to host games. The only ballpark in town is the high school park which is in use by the high school program in the Summer.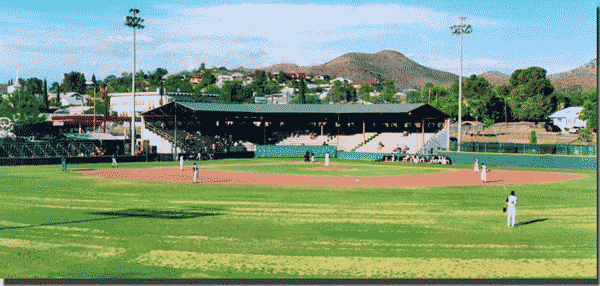 ---
---
For more information visit Pecos League of Professional Baseball Clubs LLC. http://www.PecosLeague.com 575-680-2212