The Original Joplin Miners
---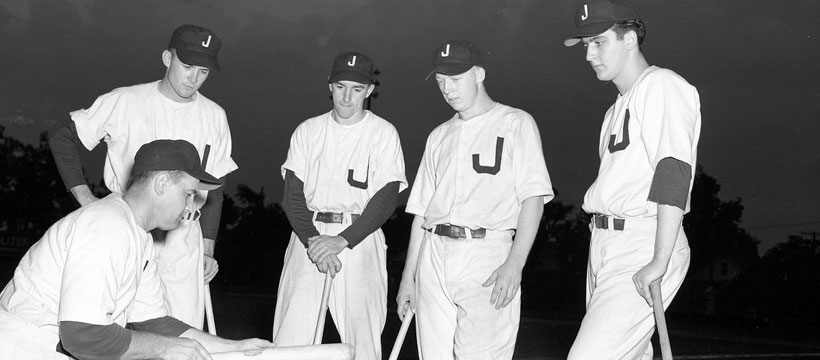 10/7/2016- After early Joplin teams played in 1887 and 1891, the Miners began play in 1902 and were a consistent franchise for the next 50 years. The Miners played in the Western Association (1934–1954, 1922–1932, 1905–1911, 1914), the Western League (1917–21, 1933) and the Missouri Valley League (1902-04).[2]

The Miners were long time affiliates of the New York Yankees (1946–1953; 1935–1942). They were also affiliates of the St. Louis Browns (1933), Boston Red Sox (1934) and the St. Louis Cardinals (1954).

The 1910 Miners finished 90-34 in the Wesetern Association, 22.5 games ahead on 2nd place Enid. They are listed at #66 on the Top 100 Teams by MiLB.com.[3]

In April 1920, Ty Cobb and the Detroit Tigers played an exhibitiongame against the Miners in Joplin.[4]

The team had some split seasons with other locales. The 1909 Miners also played in El Reno, Oklahoma as the El Reno Packers.[5] The 1914 team played some games in Webb City, Missouri, Guthrie, Oklahoma as the Senators and Henryetta, Oklahoma as the Boosters.[6] The 1932 team played in Hutchinson, Kansas, Independence, Missouri and Topeka, Kansas.[7]

The 1952 Miners finished 87-52.[8] The 1950 squad finished 90-46, with an 18-year-old Mickey Mantle hitting .383 with 199 hits, 30 doubles, 12 triples and 26 homers for the Miners.[9][10]
---
For more information visit Pecos League of Professional Baseball Clubs LLC. http://www.PecosLeague.com 575-680-2212